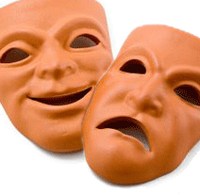 I was thinking about the ideas of facades, as in that poem I just reposted…people going through life holding things in and pretending all is well, but underneath, their hidden pain is great.  But there is a difference I think between that…between pretending that all is well and you have no problems and trying to put some face that's not real out there, and in just looking at the "glass half full" and choosing to smile through whatever's going on.  Or even a difference in knowing that there is a time and place to deal with those things, and other times and places to refrain from doing so.
When I was cashiering several years ago, I remember a customer coming through my line asking me, "You're always smiling!  Are you always happy?"  I actually thought that was a very funny remark, and I assured him that no, I was not always happy.  I just chose to smile. 🙂 I'm not always happy…who is?  Not many people, I don't think, if any.  Everyone has their issues and problems that they deal with in their daily lives.  Some are small, and some are big.  And you all know that I have been honest about some of the really bad ones and allowed the feelings through them to show.  I don't think there's anything wrong with that.  I've said before that I've come to believe that it's okay to feel whatever you feel in life…holding it in, I don't think is good.  But holding on to those feelings and dwelling on them and staying in that place…that's different.  I've found that when I have done that in my life, there's a tendency for the feelings to just become my life.  Been there, done that, and it's a crummy way to live.  I don't like it.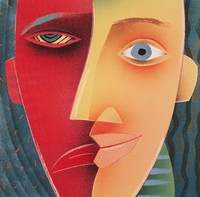 So I smile.  I do talk about things…problems sometimes.  Not all of them that I'm going through, because there's a time and place for that and sometimes the time and place isn't right.  So I talk about them, smile and focus on the good things in the midst…or brush it off somehow.  I play the 'glad game', like Pollyanna in the classic old Disney movie.  Does that mean I'm being fake?  No! I'm very big on keeping it real.  I've spent way too much of my life trying to be something that someone else wanted me to be…holding back my own thoughts and opinions or trying to present whatever image others wanted me to. That 'smiling through it', is how I get through this life.  There's no way to escape problems in life.  But there can be a way to look for the light that's in the midst of whatever the darkness is…and I like it better.  And mostly from my observations, so do others.  People, at least in my experience, would usually much rather be around someone who smiles than someone who is either frowning and dragging his/her feet, or barking at everyone and biting their heads off because they're so annoyed about whatever's going on in their life.
Bottom line though…I won't spend any more of my life trying to be somebody I'm not to please someone else or to meet some image that others would rather see.   I think sometimes that there are some people who think that if you're biting someone's head off, or cussing a blue streak, that it's a show of how tough you are.  I'm not one of those people who thinks that, and it's not who I am.  Oh, I've tried to be like that before, mind you.  But that was the facade much more than the smiles through the troubles.
So, I say what I think and allow myself to be who I am.  I get through this life the best way I know how and don't apologize for who I am at all.  Been there…done that.  No more.  It took me a very long time in my life to believe it, but I'm just fine the way I am.  That doesn't mean I don't have areas I need to work on and improve in my life, or faults and failings and mistakes, etc.  It just means that those things do not solely define me and I'm not going to let them.  My problems don't define me and I'm not going to make them define me.  I would rather that my smile defines me. The problems under the smile are real.  But that doesn't mean the smile isn't real too.  It's just the choice I make because I have found it to be a better way to get through this life.  And besides, I've found that God's always there…always good…through it all.  So I smile because I know that whatever's going on, as the saying goes, "this too shall pass".
And the same is true for others in my life…they can be whoever they are around me and I've got no problem with that.  Why should I?  We're not all alike in the way we 'get through'…and that's okay.  And we're also not all at the same place in life…which does not necessarily mean that one is further ahead or something like that…just that it's a different spot, and that's okay.
But regarding that smile, I'm not getting younger.  Those frowns have a tendency to stick to one's face and leave permanent marks.  And I can't afford plastic surgery, so I figure I'd best smile as much as possible. 🙂
Have a good weekend!
Love and blessings,
Anne